One out of 10 babies in the world are born premature and keeping them warm is often a problem in many developing countries. No baby should die from being cold," "says Jane, who with her team invented the low-cost infant warmer. Jane spoke to Smore magazine and shared how she went about designing, testing and creating Embrace that has to date saved the lives of over 200,000 babies.
Jane Chen can't remember a time when she didn't have an entrepreneur's spirit. When her childhood lemonade stand wasn't getting enough customers, Jane didn't give up. The seven-year-old packed up her product and took it door to door, to resounding success. That willingness to think about problems from drastically new perspectives has followed her into her adult life. Jane is now the co-creator and CEO of Embrace Innovations, whose infant warmers have helped save the lives of ~250,000 premature babies around the world.
Jane's parents had always wanted her to save lives, but they had hoped she would do it as a doctor. Her father even had her practice introducing herself as "Dr. Chen". But Jane was adamant about focusing on her skills as a businesswoman. And when she read that unsanitary blood-collection practices had caused an HIV/AIDS outbreak in rural China, it was those skills that enabled her to join a nonprofit to support children orphaned by the outbreak. Jane's work with this nonprofit opened her eyes to just how different life for a child can be depending on where they are born. It also showed her the huge impact that a small and motivated group can have on a seemingly huge problem.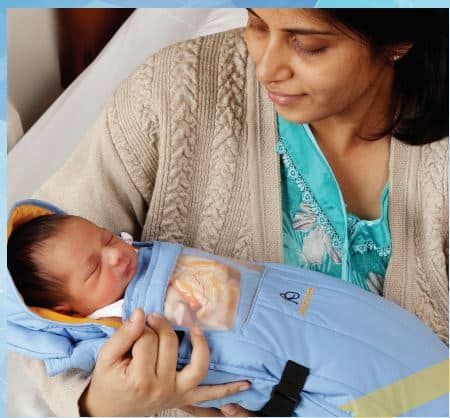 After the nonprofit was able to pay for the education of thousands of children (~$30/child), the Chinese government stepped forward and covered the education costs for all children in the affected region. Wanting to do, even more, Jane pursued a Master's degree in public policy from Harvard and an MBA at Stanford. In one course at the Stanford Design School, she and a group of fellow students were issued a challenge: Create an incubator for 1% of the cost of a traditional incubator. The students had a variety of backgrounds from public policy to computer science – but none of them had medical know-how. So how did they end up designing a game-changing, $25 infant warmer? The first step was to listen. Rather than focusing on creativity or technical savvy, Jane is emphatic about the importance of empathy in meaningful design. She believes that taking the time to really listen was what motivated her team to flip the class assignment on its head.
Science behind Embrace
Embrace shaped like a sleeping bag contains a removable pouch with a waxlike substance whose melting point is the same as human body temperature (98.6ºo Fahrenheit or 37º Celsius). It can be melted using hot water and when it melts is able to maintain one constant temperature for four to six hours. The bag with the pouch creates a warm microenvironment for the baby. The pouch can be reheated and reused again and again.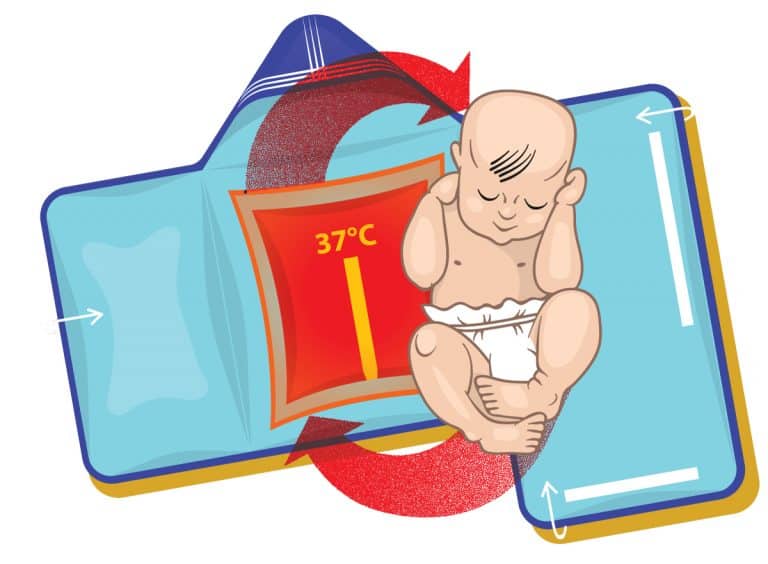 "The team was so passionate about their design that they took their prototype - initially a hodge-podge of Salvation Army items and duct tape - and moved to India."
What was the design process that guided Jane's team?
The Stanford Design School breaks the human-centered-design process into these steps:
Empathize: You need to understand the people you are designing for. How and why do they do things What do they need, both physically and emotionally? How do they think about the world? What is important to them?
Define: Take what you have learned about the user to bring focus into your design. Use your new knowledge to state the problem in a meaningful and clear way. The way you frame the problem will change the type of solutions you seek out.
Ideate: Rather than thinking about coming up with "the" idea, first, generate a wide range of possible approaches.
Prototype: In order to test and learn, you need something to test. These early versions provide a chance for feedback, to get answers to questions about your user, and to focus your approach. Prototypes aren't just fancy, 3-D printed models. Prototypes can be a board of ideas, a drawing, or even pieces held together with duct tape.
Test: Use the prototypes to get data and feedback. This can help understand both your product and your user better. And testing doesn't just happen once. The cycle keeps repeating as you improve your design.
She explained how the goal wasn't really to create an incubator; the goal was to save lives. And Jane's group learned that in areas like rural India – where 1/3 of babies are born prematurely or underweight – having more hospital incubators would not get to the root of the problem. Many mothers were unable to make the multi-hour trip to such a hospital in those critical hours after birth. Instead, Jane's group focused on the home. Their plans couldn't need electricity, sophisticated training, or technical know-how to repair. Their final product looks like a sleeping bag and contains a re-usable wax insert that can be warmed in water and will stay at body temperature for up to four hours at a time.
The team was so passionate about their design that they took their prototype initially a hodge-podge of Salvation Army items and duct tape – and moved to India. With a focus on empathy, they asked mothers, doctors, and midwives what they would need. They also asked the important question about the kind of device that they would trust. If people were unwilling to use it, the Embrace Infant Warmer could not have gone on to save hundreds of thousands of lives. And Jane's team dealt with many doubters along the way. Jane said, "People didn't believe that a team just fresh out of school with no medical background could create a life-saving device that could end up helping so many people." But with their success behind them, she would tell other young people with their own dreams to "take that risk, do what you love, and believe in yourself."
Jane knows that it isn't just engineers and scientists who can use data analysis and the latest technology to innovate – social entrepreneurs do it too. Years later, Jane was giving a talk at Harvard and was approached by an Indian woman whose premature baby had lived its first weeks in the Embrace warmer – and had the pictures to share with its co-creator. Jane isn't sure what big project she will take on next. And even though she considers herself a "doer" whose first inclination is to take action, Jane knows that – whatever the challenge – her first step will always be to listen.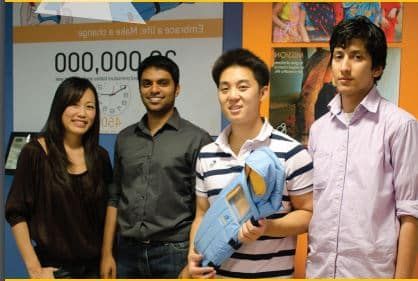 About Jane Chen
Co-founder of Embrace Infant Warmer.
Forbes' Impact 30
TED fellow, Have a Look at her TED Talk Here
Young Global Leader World Economic Forum
Economist Innovation Award Winner
Featured in Dove's Real Role Model campaign for women and girls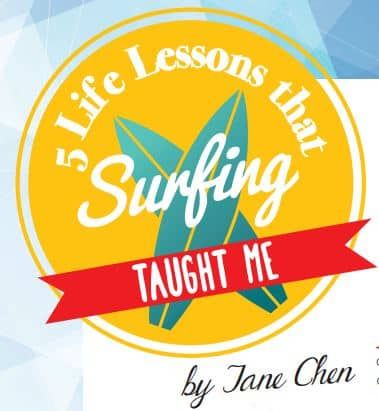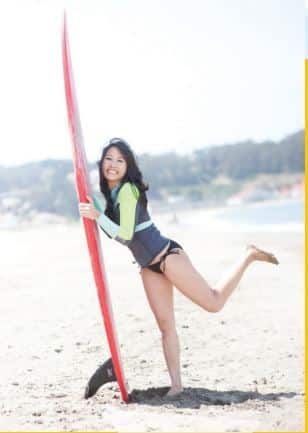 Surfing has completely changed my life because of the profound lessons I learn each time I go into the ocean.
These are the five most important lessons
I've learned from surfing:
Let go and go with the flow: No two waves are ever the same. You simply can't plan around something that is always changing and out of your control when surfing or in life.
When the waves knock you down, try again. You will constantly face setbacks. And you just have to be ok with that. Take the lessons you can from it, and move on to the next wave.
Don't be afraid to catch bigger waves. I have to overcome fear and self-doubt every time I go into the ocean. Keep putting yourself in challenging situations, and pushing your limits.
Accept what cannot be changed. When you're surfing, you cannot control your environment. Don't waste energy fighting the things that cannot be changed. Instead, adapt to the situation and learn to ride with it.
Always have fun. I'm reminded not to take myself too seriously, to just enjoy life and be grateful for every day, and every experience. The best surfer is the one who is having the most fun. And that's how I want to live my life.
Become a Smore subscriber today and get 4 annual issues shipped to you. Use code STEM30 to get 30% off your subscription.
Check out other products including issues, posters, science kits, and gifts for girls in STEM, visit our shop site.
Read More about Jane's life here.
Copyright @smorescience. All rights reserved. Do not copy, cite, publish, or distribute this content without permission.
Join 10,000+ parents and educators
To get the FREE science digest in your inbox!